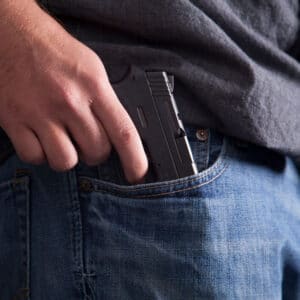 Aggravated robbery charges are filed when a person is accused of using a deadly weapon to forcefully take something of value from someone else.
In general, aggravated robbery charges in Colorado are filed as Class 3 felonies, and they will require mandatory enhanced sentencing upon conviction due to the fact that this offense is classified as a violent crime.
What this ends up meaning for people accused of this crime is that these people:
Can face up to up to 32 years in prison, as well as hefty fines and other penalties, upon conviction
Will need to have a strong defense in order to minimize the possibility of conviction and the associated severe penalties
Can trust their defense to the skilled Colorado Springs aggravated robbery lawyers at The Kohn Law Firm
Since 2003, the criminal defense attorneys at The Kohn Law Firm have been providing the accused with superior defense representation both inside and outside of the courtroom. While our clients can always rely on us to fiercely defend their rights and build them the strongest possible defense, they can also rest assured that, when they entrust their case to us, they will be able to obtain the best possible outcome to their cases.
Aggravated Robbery Defense Strategies
When it comes to defending people against criminal charges, the best defense strategies will depend on the specifics of the case, as well as the circumstances of the arrest and an individual's criminal record. In general, however, the following may be effective defense arguments in aggravated robbery cases:
The victim has wrongly identified the accused individual, mistaking him or her as the perpetrator of the offense.
Witnesses to the incident have wrongly identified the accused individual.
There is reasonable doubt regarding whether the accused person actually committed the offense in question.
An alleged confession was obtained illegally or through the use of coercion.
No deadly weapon was used in the alleged offense.
There may be other effective defense strategies and arguments in these cases, so it's always advised to consult with an experienced defense attorney to develop the strongest possible defense against aggravated robbery charges.
Colorado Springs Aggravated Robbery Defense Lawyers at The Kohn Law Firm
Have you or a loved one been charged with aggravated robbery or any violent crime? If so, the Colorado Springs aggravated robbery defense attorneys at The Kohn Law Firm are ready to aggressively defend your rights, provide you with exceptional service and help you bring your case to a successful resolution.
At The Kohn Law Firm, all of our legal professionals are dedicated to:
Providing our clients with ethical treatment and aggressive representation
Helping them navigate the complexities of an intricate criminal justice system
Working diligently to minimize the negative impacts of aggravated robbery charges while helping our clients protect their freedom and future.
Let's Discuss Your Defense Options – Contact Us Today
To learn more about how we can help you, set up a free initial consultation with us by calling us at (719) 328-9555 or by emailing us using the contact form at the top of this page.
From our offices in Colorado Springs, we represent clients throughout the Pikes Peak region and Colorado.