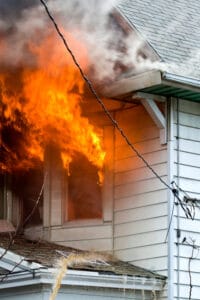 Arson charges are filed when a person is suspected of illegally burning property.
Depending on the type of property burned, as well as how the alleged act occurred, the severity of these charges will also vary – and they could come with mandatory enhanced sentencing in the event that an alleged act of arson endangered someone else's life.
What this ends up meaning for the accused is that these criminal charges can be very serious, and they can come with some severe, long-lasting penalties if a conviction is ultimately handed down.
Accused individuals should turn to the trusted Colorado Springs arson defense attorneys at The Kohn Law Firm for the strongest possible defense and the best chances of resolving the case as favorably as possible.
Since 2003, our defense lawyers have been dedicated to providing aggressive criminal defense to people accused of crimes and to working relentlessly to advocate their rights at every stage of their case.
First-Degree Arson Charges
As the most serious level of arson charges, first-degree arson charges are typically filed when someone is accused of intentionally burning another party's building or structure:
Without that party's permission; and
When the property is occupied by people (or even, in some cases, pets or animals).
In general, these charges are filed as Class 3 felonies, which means that a person could face as much as 12 years in prison upon conviction (as well as other penalties like hefty fines, community service and a criminal record).
In the event that explosives were involved in the act of arson, the charges and associated penalties can be far harsher.
Second-Degree Arson Charges
Less serious than first-degree charges, second-degree arson charges are usually filed when the illegal act of burning someone else's property without their consent involves any property other than some occupied structure. These charges are generally filed as:
Class 4 felonies if the burned property had a value greater than $100 – These charges can result in up to 6 years in prison upon conviction.
Class 2 misdemeanors if the burned property was valued at less than $100 – These charges can result in up to 12 months in jail upon conviction.
Given that the severity of these charges (and the associated penalties) rests on the value of the destroyed property, establishing the value of this property can be a pivotal point in second-degree arson cases.
Third-Degree and Fourth-Degree Arson Charges
Lesser arson charges can also be filed when:
A person is accused of burning property with an intent to defraud (such as in the case of burning property for insurance payouts). In these cases, third-degree arson charges are typically filed, and these are usually filed as Class 4 felonies.
A person is alleged to have intentionally started a fire or initiated an explosion that threatens someone else's property or life. In these cases, fourth-degree arson charges can be filed, with the severity of these charges depending on the specifics of the incident.
The bottom line is that arson charges are always serious and that trusting your defense to the Colorado Springs arson defense attorneys at The Kohn Law Firm will be critical to successfully resolving the case.
Colorado Springs Criminal Defense Lawyers at The Kohn Law Firm: Experience You Can Trust
If you or a loved one has been charged with arson, the Colorado Springs criminal defense lawyers at The Kohn Law Firm are ready to aggressively defend your rights. At The Kohn Law Firm, we have been committed to providing our clients with exceptional service, ethical treatment and aggressive representation since 2003.
When people accused of crimes trust us with their defense, they can count on us to:
Help them navigate the complexities of the criminal justice system
Minimize the negative impacts of arson charges
Help them protect their freedom and future.
Contact Us Today
To learn more about how we can help you, set up a free initial consultation with us by calling us at (719) 328-9555 or by emailing us using the contact form at the top of this page.
From our offices in Colorado Springs, we represent clients throughout the Pikes Peak region and Colorado.