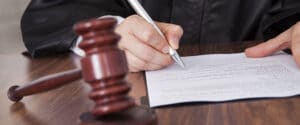 Some Colorado residents believe that it is now easier for prosecutors to prove a menacing or felony menacing charge against a defendant. It used to be that prosecutors would have to prove that the defendant intended to cause fear of bodily injury; they now must prove only that the defendant knew that their actions would cause another person to fear bodily injury. This could mean that a person can be convicted even if they had no intention of hurting anyone.
Felony Menacing Applies If Threat Believed To Be Real
A defendant can be charged with felony menacing if the person who claims to have been threatened believed that the defendant had a deadly weapon and intended to use it, so an individual can be charged with a felony even if they had a toy gun or no gun at all. If the victim believed that the toy gun pointed at them was real, or if the victim believed the perpetrator's statement that they had a gun in their pocket, the defendant can be charged with a felony.
Menacing is a Class 3 Misdemeanor in Colorado. It becomes a Class 5 Felony if a deadly weapon such as a firearm is involved in the incident. The prosecution does not have to prove that the defendant had a weapon or that the weapon was operable to prove a felony charge; the crime in such a case is causing the victim to fear for their life or personal safety. A prosecutor can make a case by demonstrating that the defendant should have known that their actions would cause fear. Intoxication is not a defense in such a case. A judge may not listen to arguments that the defendant could not help what the victim was thinking.
DON'T WAIT. CONSEQUENCES MAY BE SEVERE.
If you or someone you know is facing potential criminal charges in Colorado Springs, contact the felony menacing defense lawyers at The Kohn Law Firm anytime at 719-328-9555.
Book your FREE, confidential, no-obligation consultation now.  The strongest defense depends on building an aggressive defense now. It is critical to obtaining the best results.