Juvenile Delinquency Defense
A minor who is accused of committing a crime may face a variety of juvenile delinquency charges, such as theft, mischief or sexual misconduct. While some of these crimes are as serious as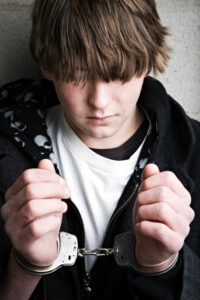 the equivalent of an adult's charges, an effective juvenile delinquency defense might emphasize the need for
rehabilitation
for a person so young in an effort to mitigate sentencing.
Consequences of Conviction of Juvenile Delinquency
If a minor is convicted of a juvenile delinquency charge in Colorado, he or she may face a variety of serious consequences.
In some situations, the juvenile can be sent to jail for punishment of his or her crimes. Additionally, a conviction can mean hundreds of hours of community service that might interfere with school and other responsibilities.
A teen may also be required to pay restitution. If probation is imposed on the juvenile, more serious consequences can result if he or she violates any terms of probation.
Know Your Options
Colorado Springs criminal defense attorneys at The Kohn Law Firm can help represent and defend anyone who has received a juvenile delinquency charge against them. Their role in a juvenile delinquency defense is critical and multi-faceted.
If there is a juvenile delinquency proceeding, they will require that the prosecutor adequately show cause. As a criminal defense lawyer, they will serve the juvenile's interests by informing the juvenile of his or her rights and options through each stage of the legal process. They will provide an experienced opinion about any recommendations regarding plea bargains or defense strategies.
Additionally, they will keep the juvenile informed about the status of any pending proceedings and ask for a certified court interpreter if the defendant's primary language is not English. A criminal defense attorney can also petition the court for a guardian if the minor's legal interests will not otherwise be served.
In some circumstances, our criminal defense attorneys may be able to offer alternatives to traditional juvenile detention centers. For example, a minor may be better served by entering into a work program or by completing rehabilitation if he or she has a substance abuse problem.
TAKE ACTION.  EVERY DETAIL MAKES A DIFFERENCE.
Feeling hopeless or overwhelmed, because a loved one is facing charges? The criminal defense lawyers at The Kohn Law Firm help our clients understand the particular circumstances of each criminal charge and make an informed decision regarding strategies that could significantly improve the outcome of their defense.
Book your FREE consultation today at 719-328-9555, or click HERE to contact by email.